As we were getting ready for a (virtual) workshop with a partner organization in Medellin, it was announced to us via WhatsApp that some of the people who would participate in the meeting were not going to make it "today". At first it was a bit discouraging, as we had prepared the workshop with enthusiasm, but later we understood the nature of the absence of some of our colleagues.
There have been massive peaceful protests in Colombia for more than 60 days, resulting from the national government's attempt to pass a tributary law that would heavily hurt the pockets of the working and middle classes amidst a pandemic. Though, as in the case of Chile between 2019 and 2021, protesting about the passing of a new policy served as an entry point, an opening, to a national conversation about a variety of issues ranging from income inequality, to racism, to political corruption, and the utter need of political reforms of different kinds.  
Social beings communicate in distinct ways; and protests, manifestations, strikes are all forms of communication. In democracies, collective desires, messages, dissatisfactions, fears, are communicated through public demonstrations. People get together around a common issue and use the streets to craft and deliver their message. Indeed, public spaces become the setting where the dissatisfied, or what Fanon called, "The Wretched of the Earth", find ways to communicate the issues that most affect them and to suggest collective solutions. The streets then become an important channel of communication between different sectors of society, including the government. 
Messages of dissatisfaction vis. a vis. the current administration have been met with repression in different forms. Police and military forces have been on the streets of cities confronting protesters, oftentimes using disproportionate force (see: https://www.oas.org/es/cidh/informes/pdfs/ObservacionesVisita_CIDH_Colombia_SPA.pdf); governmental agencies, and some people from the private sector, have attempted to delegitimize the peaceful protests (and the very messages conferred in them) by stigmatizing the strike as disorderly and violent. In addition, in a country where breaking the norm is experienced by citizens as the norm, law infringing actors mingle in the streets with the protesters to cause confusion and create chaos. Paradoxically, as the strike takes on a stronger force and stretches out in time and space, the messages of the people on the streets become weakened, opaque, and polarized. 
This attempt to open up a national dialogue around the pressing issues that many face can fade away as there is dissonance, lack of coordination, and profound misrepresentation of the messages that are at the center of this conversation. Indeed, in our work with youth community leaders in Medellin, we've evidenced that social issues that plague the fabric of the Colombian society are associated with poor communication between and among different sectors of this same society. It is also worth noting that this Colombian society we are referencing has also sustained the longest internal armed conflict in the western hemisphere. Needs are communicated between interlocutors in ways that seem abstract. And naturally, answers to such needs tend to be far away from what is expected. They are not speaking the same language and are talking across each other rather than to each other. As a result, needs are not met, misrepresentation is rampant and dissatisfaction deepens.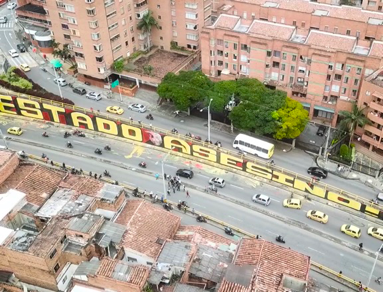 The reason why some of our colleagues could not join us for the workshop was because they were painting a mural (many mural painters are young graffiti artists). During the first weeks of the protests, a large sector of the graffiti community in Medellin painted a mural saying "Estado asesino" (The state is the assassin). A few days later, as it was told to us, military forces erased this mural with broad strokes of gray paint, covering the colorful and aesthetic mural that was appealing to the protesters, with a sterile image of pure gray.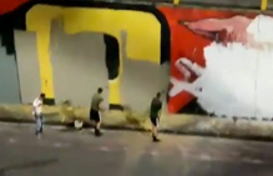 Undeterred, the hip hop community, to which the graffiti artists belong, responded to this by using the gray paint as a primer to a larger, more colorful mural, this time saying, "El pueblo no se rinde, carajo" (The people will not surrender). As in a Holywoodeske drama, this wall has become a matter of contention in Medellin. Days after the "re-take" of the mural by the graffiti writers, there were rumors that some people from the upper middle class of Medellin were planning to enter the conversation by covering the second iteration of this graffiti mural. The hip hop community this time was ready to impede those who were planning to cover the latter mural from doing so and one of the ways to stop this from happening was to confront their interlocutors at the site of the mural—which could have led to a violent confrontation.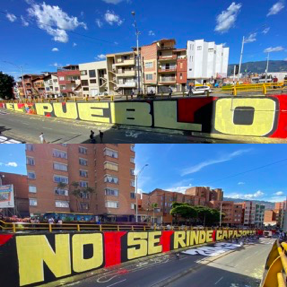 Youth community leaders, famous artists, members of powerful NGOs, and public figures, initiated a conversation with those involved in this back and forth contention in an attempt to impede this conversation from turning violent. Short video clips began to appear on social media and whatsapp with the following slogan: "La vida no vale un muro" (A mural is not worth a life).  Until today the mural remains untouched. 
These occurrences may begin to shed some light on the possibility of opening up spaces for conversations between sectors holding very different viewpoints without the use of violence. The history of Colombia is marked by the use of violence as a means to deal with disagreements, which is a destructive form of communication. If we disagree we'll both attempt to eliminate the other, and not try to set the conditions where we can peacefully coexist, much less where we can comprehend one another. However, in our work in Colombia among impoverished communities we've evidenced that youth community leaders have found more sophisticated ways to deal with disagreements. The arts are used as a way of not necessarily agreeing on something, or to convince another of your views, but of communicating and telling stories. Understanding communication in this way is central in their approach to constructing settings where people can peacefully coexist. Storytelling through the arts is a powerful tool that is inclusive as all stories are welcome as foundational to sharing and creating common ground.
There are existing practices of communication that are successful and that if understood, disseminated, and implemented in larger social conversations, have the potential to construct more peaceful societies. However, constructing more peaceful societies would require a shift in the way we understand communication; one that sees communication as the means to share stories, realities, visions of the world, and not as a means of persuasion, cohesion, or a mechanism to construct agreements. Effective communication does not seek to convince, as it seeks to tell. This wall has been used for that purpose: it tells.